What is copywriting?
Writing words for the goal of promoting or advertising a good, service, or brand is known as copywriting. To encourage the reader or viewer to do something specific, such as make a purchase, sign up for a newsletter, or visit a website, is the aim of copywriting.
Web text, social media postings, email newsletters, product descriptions, print ads, and other kinds of copywriting are just a few examples. The capacity to clearly and persuasively convey the value of a product or service is necessary for effective copywriting, as is knowledge of the target audience and their demands. Copywriting is an important factor for social media marketing.
The use of persuasion by copywriters is also strong, convincing voices, concise messages, and compelling calls to action are frequently attributes of effective copywriting. To captivate and persuade their audience, copywriters may also employ persuasive strategies like storytelling, emotional appeals, and social proof.
Any marketing or advertising effort needs strong copywriting since it has a significant impact on a product or service's success or failure. A firm or organization can attract clients' attention with well-written content, establish credibility and trust, and eventually increase sales.
Significance of copywriting in 2023
The art and science of writing written content for advertising and marketing objectives is known as copywriting. It entails developing persuasive and appealing communications that grab a target audience's attention and motivate them to act.
The significance of copywriting in 2023 involves:
Improved conversions: By persuading readers to take action, such as completing a purchase, signing up for a newsletter, or filling out a form, effective copywriting can help businesses increase their conversion rates.
Recognition: Better brand recognition may be attained by consistent, excellent copywriting, which makes it simpler for companies to stand out in a crowded market.
Improved customer engagement: Well-written copy can inspire and engage customers, creating stronger bonds between a company's target market.
Enhanced credibility: Short, to-the-point text can Improved credibility. Customers are more inclined to trust and believe in a company's message when it is clear and succinct, which increases the likelihood that they will buy from or promote it to others.
Better search engine optimisation (SEO): Businesses may increase their search engine ranks by using SEO-friendly copywriting, which makes it simpler for potential customers to find them online.
Improved ROI: By enhancing sales and enhancing marketing efficiency, effective copywriting can assist organizations in achieving a higher return on investment (ROI).
Increased search engine ranks: By including pertinent keywords and phrases in the content, SEO copywriting and help in Search engine marketing.
More successful marketing campaigns: By creating a language that is tailored to particular groups and intended to elicit a desired response, copywriting can assist firms in producing more effective marketing campaigns.
Different types of copywriting?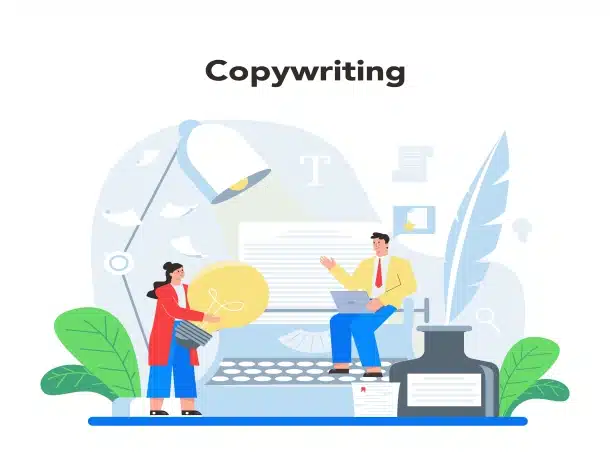 Copywriting comes in a variety of forms, each of which has a certain function and necessitates a particular strategy. The following are some of the most typical forms of copywriting:
Response copywriting: Writing that is intended to prompt immediate action from the reader or viewer, such as making a purchase or filling out a form, is known as direct response copywriting. To persuade a specific action, direct response copywriting frequently uses compelling language and a strong call to action.
Brand copywriting: As opposed to generating rapid sales, brand copywriting is concentrated on establishing and promoting a brand identity. This style of copywriting tries to build a favourable link between a brand and its target market and is frequently employed in branding campaigns, taglines, and slogans.
Copywriting for SEO: By inserting pertinent keywords and phrases into the content, SEO copywriting aims to raise a website's search engine ranks. This kind of copywriting has to strike a compromise between the demands of entertaining, high-quality material and SEO.
Social media copywriting: For social media sites like Facebook, Twitter, and Instagram, social media copywriting is used to create interesting and shareable content. Short, captivating headlines and captions, as well as multimedia content like photographs and videos, are frequent components of this form of copywriting.
Sales copywriting: Sales copywriting aims to increase a company's revenue and sales. Long-form sales pages, in-depth product descriptions, and email campaigns that employ persuasion and a clear call to action to promote purchases are common examples of this sort of copywriting.
Public Relations copywriting: Writing press releases, media pitches, and other communications aimed at generating favorable exposure for a company or organization is known as public relations (PR) copywriting.
While the approaches and talents needed for each form of copywriting vary, they are always centered on producing compelling material that generates results for a company or organization.
Steps involved in copywriting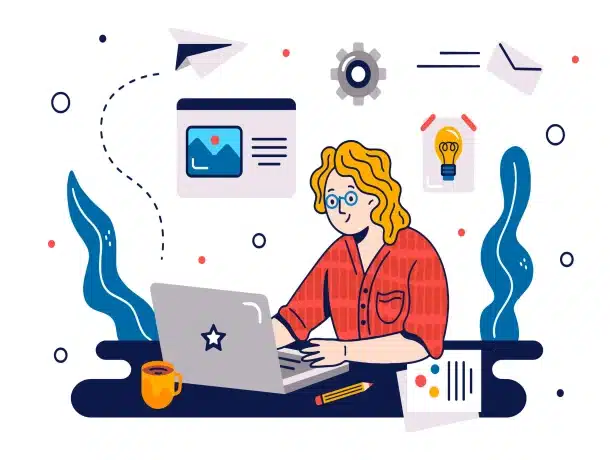 Depending on the project and the particular requirements of the customer, the procedures involved in copywriting might change, however the following general steps are ones that copywriters frequently follow:
Clearly defining the target is the first stage in any assignment including copywriting. This may involve identifying the target audience, the action you want the reader to do, and the essential points you want to convey.
Once you have a specific goal in mind, it's crucial to perform research to learn more about the target market, the industry or market, and the competitors. This can assist you in better understanding your audience's motivations and how to interact with them.
You can create a strategy for your copywriting project based on your research and goals. This could entail selecting the copy's tone and style, detailing the main points and advantages, and figuring out the best ways to distribute the content.
Now that you have a clear plan in place, it's time to get to work on the copy. For the target audience, this entails developing headlines, subheadings, and body content that effectively convey the important points and benefits. It's crucial to maintain a consistent tone and writing style throughout the text and to make sure it's interesting, convincing, and simple to read.
After the content is written, it is crucial to thoroughly edit and revise it to make sure it is free of errors, understandable, and succinct. The copy may need to be reorganised, its structure may need to be changed, or other adjustments may need to be made to make it more readable and effective.
After the copy is finished, it's crucial to test and improve it to see how well it functions. This could entail tracking performance indicators like click-through rates and conversions, A/B testing various copy versions, and performance changes. Finalize and optimise the copy before delivering it to the client or using it as necessary in marketing and advertising efforts.
Copywriters frequently need to iterate and make improvements along the process to guarantee the greatest outcomes because these phases are not always linear.
How to choose the best copywriting agency in India?
It can be difficult to choose the top copywriting company in India, but the following criteria to think about can guide your choice:
Experience: Seek out a firm with expertise in your sector or industry. It will be easier for an agency to write persuasive content that connects with your target audience if they have experience working with clients like your company.
Portfolio: Go through the agency's portfolio to see some of their past projects. You can then decide if they are a suitable fit for your company after getting a sense of their work ethic and working style through this.
Services: Take into account the assortment of services the agency provides. Some companies may focus on a certain form of copywriting, like SEO copywriting.While some companies may only provide a certain set of services, others may specialise in a particular area of copywriting, such as SEO copywriting or social media copywriting.
Reviews: Read online reviews and testimonials from previous clients to get a sense of the reputation of the firm and the calibre of their work.
Cooperation and communication: Seek out a company that values honest cooperation and communication. A quality copywriting company will collaborate with you closely to comprehend your company's objectives, target market, and messaging. They will also offer regular updates and comments during the project.
Pricing: To make sure you are paying a fair price for the services you require, compare prices from various organizations. Remember that not always will the cheapest option Recall that professional copywriting is an investment in your company and that the cheapest solution isn't always the best value.
You can choose a copywriting agency in India that is a suitable fit for your company and can assist you in achieving your marketing and sales objectives by taking into account these elements.
Conclusion
Copywriting is crucial to any effective marketing plan because it enables companies to connect with their customers, articulate their value proposition, and ultimately spur sales and expansion. In general, this blog expalins what is copywriting and how it is a vital tool for companies and organizations that wish to effectively engage with their target markets and accomplish their marketing and sales objectives. You can reach your target audience with your brand's message by using copywriting. You may leave a lasting impression and increase brand recognition by writing compelling and interesting copy.