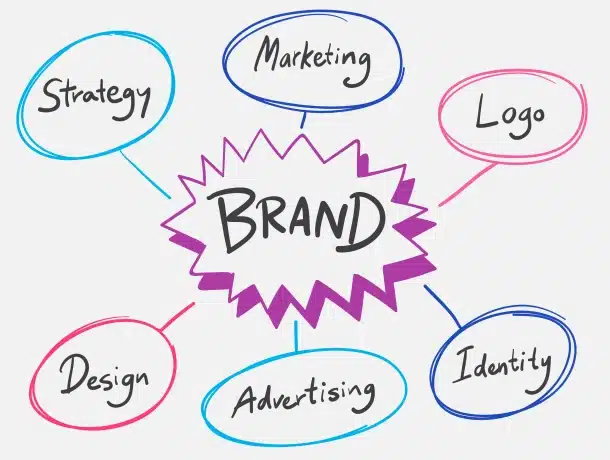 What is a branding design? 
The process of developing a special and distinctive visual identity or image for a good, service, business, or organisation is known as branding design. It entails creating a consistent and cohesive look and feels that conveys to the target audience the values, mission, and personality of the brand.
A logo, colour scheme, typography, and the design of visual components including packaging, websites, social media visuals, and advertising materials are all included in branding design. A unique and recognised brand that stands out from the competition and successfully conveys the business's message and values to its audience is the goal of branding design.
The importance of branding design helps in fostering brand identification and loyalty, which in turn promotes sales and company expansion.
Types of branding design
Companies and organisations can employ a variety of branding design techniques to develop a distinctive and memorable brand identity. The most typical varieties include:
Wordmark or logotype: A wordmark or logotype is a text-based logo that creatively and styling incorporates the brand name. IBM, Google, and Coca-Cola are a few examples.
Icon or Symbol: A graphical depiction of the brand that is instantly identifiable and connected to the brand is known as an icon or symbol. Nike's Swoosh, and Twitter's bird are a few examples.
Combination Mark: To create a distinctive and identifiable brand identity, a combination mark incorporates both text and graphical features. Burger King, Lacoste, and Mastercard are a few examples.
Symbol: A symbol, also known as an emblem, is a logo that combines text and visual components into a single design, frequently in the form of a badge or seal. Examples include the NFL, Starbucks, and Harley-Davidson.
Lettermark: A lettermark is a distinctive and stylised logo made up of the brand name's initials or acronym. IBM, HBO, and NASA are a few examples.
Mascot: A mascot is a persona or object that symbolises a company or product and is frequently used in advertising or promotional activities. Examples include Tony the Tiger, the Michelin Man, and the Kool-Aid Man.
In general, the values, target market, and marketing objectives of the brand will determine the style of branding design that is used.
The importance of branding design in marketing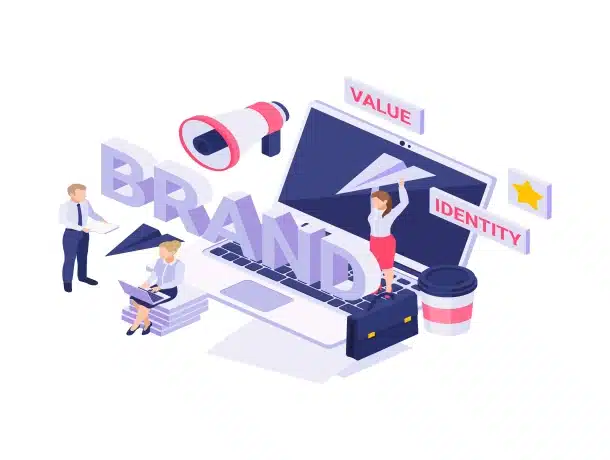 The process of developing a visual and emotional identity for a good, service, business, or organisation is known as branding design. Branding entails creating an identifiable appearance and feel that conveys to the target market the brand's values, purpose, and personality. Designing a logo, picking a colour scheme, choosing fonts, and producing visual components like packaging, websites, and marketing materials are all part of branding.
It is impossible to exaggerate the importance of branding design. For businesses and organizations, branding is crucial for the following reasons:
A strong brand identity aids people in recognising and remembering your brand, which can encourage repeat business and customer loyalty. Branding builds brand recognition.
Values are communicated through branding. A consistent brand identity conveys the brand's values, personality, and mission to its target audience, fostering a feeling of connection and trust among clients.
A special and distinctive brand identity can make your company stand out from the crowd and give you an upper hand in the market.
Customers are more likely to buy from your business if you have ‌strong brand identification.
A strong emotional connection between a company and its audience can improve both their loyalty and advocacy.
Factors involved in branding designing
There are various factors in the branding design process, including
Developing a brand strategy that will direct the design process requires conducting research on the brand's target market, rivals, and market trends.
The creation of initial thoughts for the brand identity, including suggestions for logos, colour schemes, typography, and other visual components, is known as concept development.
Design exploration entails enhancing and examining the greatest design ideas, as well as producing sketches and mockups to see how the brand identity would look in different settings.
In order to develop a final brand identity that effectively expresses the brand's values, personality, and mission, the best design concepts must be chosen and refined.
Application of the brand identity to different marketing materials, including brochures, websites, packaging, and advertisements.
Examples of software frequently used in branding design
It is best to use Adobe Illustrator, a vector-based design programme, to create logos and other visual components.
Adobe Photoshop is a raster-based design programme that can be used to edit and manipulate photographs as well as produce visuals for many types of promotional materials.
For making user interfaces and digital designs, such as website layouts and mobile apps, designers often use the sketch design tool.
Create graphics for social media, posters, and other marketing materials with Canva, a user-friendly design programme.
Teams can collaborate on design projects using the collaboration application Figma in real-time.
The software chosen for branding design will ultimately depend on the designer's preferences, skill level, and the particular requirements of the project.
How branding plays a vital role in the success of your business
In many respects, branding is essential to a company's success. For your company's success, branding is crucial for the following reasons:
Increases brand awareness and visibility: A strong brand identity makes it easier for customers to recognise and remember your company. This may finally encourage client expansion and revenue augmentation.
Consistent: Customer advocacy and brand loyalty are boosted by a consistent, well-executed brand identity, which helps build an emotional bond with consumers. 
What makes you stand apart from rivals: A distinctive brand identity can give your company a competitive edge in the market and help it stand out from rivals. This may promote customer growth and revenue expansion.
Expresses your values: Building trust and a sense of connection with customers, a strong brand identity effectively conveys to your target audience the values, personality, and mission of your company.
Enhances credibility: Customers are more likely to buy from your company if you have a strong brand identity to assist you establish credibility and confidence.
Best branding designing company in Bangalore
Bangalore is home to a number of branding design firms with a solid reputation for their work. 
Choose a company that has a solid track record of giving its customers memorable and effective brand identities.
The company should specialise in formulating brand strategies, producing visual identities, and designing marketing materials.
Choose a company that provides a variety of design services, including ‌packaging, product, and brand identity design.
The company should have created powerful and useful brand identities for a variety of customers, including startups and well-known companies.
To identify the ideal fit for your branding design needs, it's critical to thoroughly consider each agency's portfolio, reputation, and experience.
Different types of Digital media platforms
A web-based or mobile application known as a "digital media platform" gives consumers access to digital material such as news, entertainment, social networking, and other forms of media. Many devices, including smartphones, tablets, laptops, and desktop PCs, can access these platforms.
Digital media platforms include, for instance:
Social media platforms: Users can interact and share material with friends, family, and followers on these platforms, which include Facebook, Twitter, Instagram, and LinkedIn.
Platforms for sharing videos: Sites like YouTube enable users to publish and distribute videos to a large audience. Users can obtain news and information from a variety of sources, including traditional media outlets and internet publications, through news websites and applications.
Platforms for entertainment: These services, including Netflix, and Amazon Prime Video, give consumers access to movies, television shows, and other types of online entertainment.
E-commerce platforms: These sites let users buy and sell goods and services online. Examples of these sites include Amazon, Alibaba, and eBay.
As more and more people rely on the internet for their everyday requirements, digital media platforms have grown in significance in today's digital age. These platforms offer companies and people a potent means of connecting with their target market, sharing content, and increasing engagement and sales.
Conclusion
The importance of branding design in marketing may assist companies and organizations in establishing their brands, standing out from rivals, and communicating their beliefs. Businesses can position themselves for long-term success in their industry by investing in a strong and consistent brand identity. A powerful and well-recognized brand can aid in luring top talent to your business, making it simpler to hire and retain experienced workers. Your marketing and advertising activities can be supported and improved by a strong brand identity, which will help your campaigns be more effective.