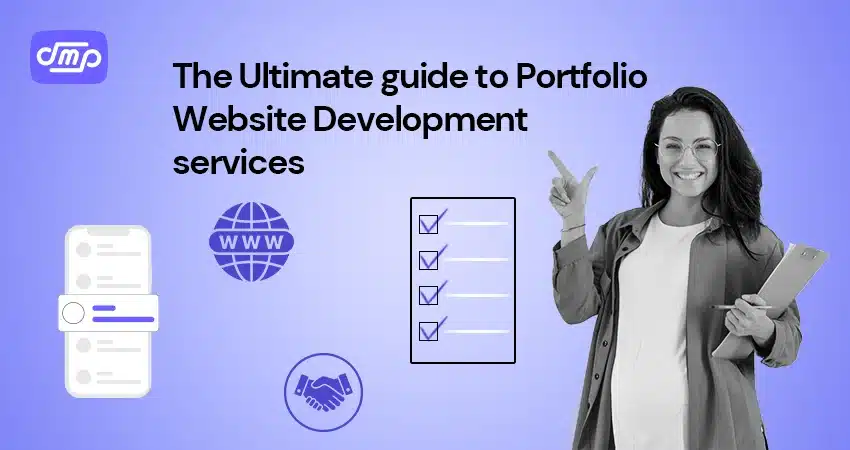 What is portfolio website design?
A website that displays your work, abilities, and accomplishments for future clients, employers, or collaborators is known as a portfolio website. Guide to portfolio website development is beneficial for professionals, freelancers, business owners, and those in the creative industries who want to market their products and increase their internet visibility.
The following components are commonly seen on a portfolio website:
Home Page: When someone visits your website, they initially see the home page. It should provide a succinct summary of your background, areas of expertise, and distinguishing characteristics. Also, it must make it simple to access the other pages of your website.
About This Page: Further details about you and your background can be found on your About page. Your bio, résumé, credentials, and professional history are all possible inclusions. It is an opportunity to display It is an opportunity to engage with your audience and show off your personality and ideals.
The portfolio page: The portfolio page, where you display your work, is the focal point of your website. It must have crisp pictures, videos, or examples of your work, as well as a succinct summary of each project. It should also demonstrate your abilities, originality, and knowledge.
Service page: The services you provide, along with prices and packages, are described on your services page. Visitors should be able to easily comprehend what you can achieve for them thanks to its clarity and concision.
Testimonials Page: Your clients or collaborators can leave reviews and comments on this page. It is an effective strategy for establishing credibility and trust, and it can help you draw in new clients.
Contact Page: The contact page offers visitors a means of contacting you. A contact form, email address, phone number, and social media connections must ‌be provided.
Guide to portfolio website development services
Building your brand and showcasing your abilities and services online may require you to take important steps, including creating a portfolio website. A comprehensive guide to portfolio website is provided below:
Establish Your Goals: Prior to beginning the website's construction, establish your goals. Do you want to display your work, gain more clients, or market your abilities? Understanding your objectives will enable you to design your website and produce content that supports them.
Pick Your Platform: WordPress, Wix, Squarespace, and Shopify are just a few of the platforms you can use to build a portfolio website. To choose the platform that best meets your demands, take into account the features, customization possibilities, and pricing.
Choosing a Domain Name and Hosting: Choose a domain name that accurately conveys your brand and is simple to remember. Pick a hosting company that provides security, dependability, and speed.
Create a Cohesive and Engaging User Experience:Create a list of the pages you wish to include and decide what content each page will contain. Make sure your writing is easy to read, clear, and brief.
Create and Personalize Your Website: Choose a theme or template that complements your brand and add your own touches to make it stand out. Make your website aesthetically appealing by using images and graphics of the highest quality.
Add Your Work Samples: Your website's portfolio page is the most crucial element. Provide the best examples of your work while emphasising your abilities and accomplishments. To make your work stand out, incorporate illustrations, case studies, and endorsements.
Add Your Contact Information: Be certain that it is clear and simple to identify where to reach you. Add a contact form, your phone number, social media links, and your email address.
SEO: Use keywords in your content and metadata to improve your website's search engine optimization(SEO). Make sure your website loads quickly and is mobile-friendly, and use alt tags for photos.
Launch Your Website: Make sure your website is fully functioning and error-free by properly testing it. Launch your website and market it using business cards, social media, and other marketing tools.
Keep and Update Your Website: Consistently add fresh work samples, blog entries, and pertinent content to your website. Analyze your website analytics to keep track of your progress and make any necessary adjustments.
What are the different types of portfolio websites?
Websites for portfolios come in a variety of forms, each intended to highlight a different set of abilities, samples of work, and accomplishments. The following are a few of the popular styles of portfolio websites:
Artistic Portfolio: A website for an artistic portfolio ‌made to display the work of visual artists like painters, graphic designers, photographers, and illustrators. It often includes background information, a succinct explanation, and high-resolution pictures or videos of the artist's work.
Writing Portfolio: A writing portfolio website is made to display the work of writers, including bloggers, novelists, journalists, and copywriters. Together with a bio and contact details, it frequently includes samples of the writer's work, such as essays, articles, or book extracts.
Portfolio of Professional Work: Professionals such as consultants, marketers, developers, or educators can display their work on a website that serves as their online portfolio. It often includes examples of the professional's work, case studies, recommendations, and other evidence of their accomplishments.
Academic Portfolio: A website with an academic portfolio is made to display the work of academics, researchers, and teachers. It often includes a profile and contact details, as well as research papers, publications, conference presentations, and other academic work.
Personal Branding Portfolio: A personal branding portfolio website is made to display the personal brands of people like business owners, celebrities, and influencers. It often includes a biography, recommendations, examples of the person's work, and other details that show their special abilities and principles.
Hybrid Portfolio: A website with a hybrid portfolio is Hybrid Portfolio: A hybrid portfolio website combines work samples and skills to show off. Those who work in various industries or have a variety of skills, such as designers who are also writers or marketers who are photographers, frequently use it.
In general, your goals, talents, and intended audience will determine the kind of portfolio website you build. You may effectively show off your work, abilities, and accomplishments to prospective clients or employers by selecting the appropriate form of portfolio website.
Benefits of Portfolio Website
Several advantages are available to people who want to use a portfolio website to display their accomplishments, abilities, and work online.
A portfolio website gives you the opportunity to expose your work to a larger audience, including possible clients, employers, or partners. You boost your visibility and chances of being discovered by people in your business by having an online presence.
A portfolio website helps you project a credible, professional image. You show off your abilities and attention to detail by presenting your work in a well-designed and structured way.
You have more control over how you present your work and yourself when you have a portfolio website. You get to decide which work samples to highlight, how to arrange them, and what personal information to include.
Having a website for your portfolio makes your work more available to anyone, including those who are unable to meet with you in person. You make it simpler for people to read, share, and discuss your work by giving it an online home.
By offering a forum for comments and conversation, a portfolio website can aid in raising interest in your work. To encourage people to interact with your work and spread it across their networks, you might include comment sections or social media links.
A portfolio website can increase the conversion rate of visitors into clients or customers. You may build trust with potential clients and make it simpler for them to choose to work with you by showing your work and accomplishments.
Conclusion
An effective technique for showcasing your abilities and offerings and establishing your internet presence is a portfolio website. It needs to be aesthetically pleasing, simple to use, and give visitors a clear idea of who you are and what you can achieve.This guide to portfolio website is a crucial resource for anyone wishing to advertise their abilities, offerings, or accomplishments online. It gives you a platform to display your work, builds your credibility, and it can assist you in reaching a larger audience and boosting engagement with your work.