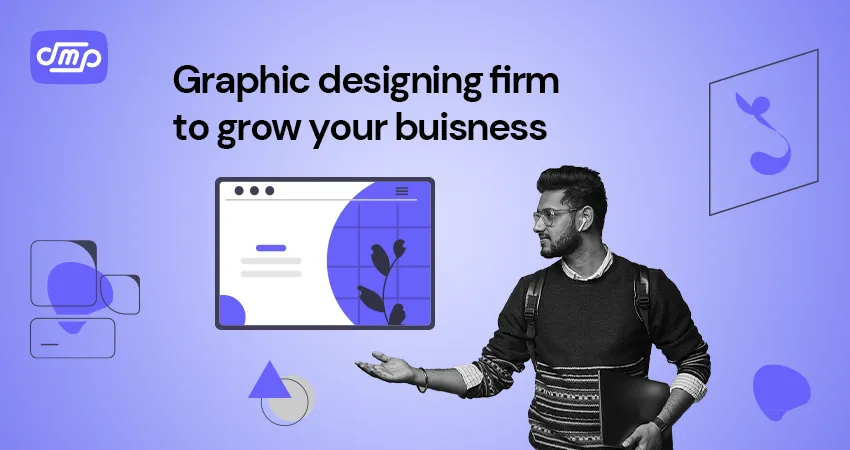 What is graphic design?
In order to convey information and ideas to a particular audience, graphic design is the art and practice of producing visual material using typography, images, and other elements. It involves combining text, graphics, and other design elements in a pleasing way by using a variety of tools and approaches.
In order to produce designs for a variety of products and applications, including logos, branding, websites, magazines, packaging, advertising, and more, graphic designers use their imagination, artistic talent, and technical expertise. They collaborate with customers to fully grasp their requirements and objectives before applying their design expertise to produce efficient and visually arresting designs that effectively convey the required message to the target audience.
Graphic designers employ a variety of programmes and equipment, including Adobe Photoshop, Illustrator, and InDesign, to develop their designs. Also, they must be skilled in the use of typography, composition, colour, and other design elements.
Types of graphic design services
There are many different kinds of graphic design services, each with a specialisation and focus of its own. Some of the most typical varieties are listed below:
Designing a company's or organization's visual identity, including logos, colour schemes, typography, and other design aspects, is known as branding and identity design.
Designing print products including brochures, flyers, business cards, posters, and other marketing collateral falls under the category of print design.
Web design entails creating layouts, user interfaces, and other visual components for websites that enhance the user experience.
Packaging design is creating containers, labels, and other visual components that give items their packaging and help them stand out from the competition.
Designing advertisements for billboards, social media ads, and other types of advertising is included in the category of advertising design.
Environmental design entails creating graphics and signage for real estate such as offices, retail spaces, and public areas.
Designing animated images and videos for use in digital media, including websites, social media, and other digital platforms, is known as motion graphics.
Designing illustrations and infographics to convey complex facts and data in a visually appealing manner is known as illustration and infographic design.
These are but a few illustrations of the various kinds of graphic design services that are offered. Graphic designers may focus on one or more of these categories, depending on the project and the requirements of the customer.
Benefits of graphic designing to grow your business
A crucial element of any business strategy is graphic design. The following are some of the main advantages of graphic design for business growth:
Enhances Brand Identity
A professionally designed logo and branding materials give your company a distinctive and memorable identity. It aids in brand recognition and memory, fostering long-term client loyalty and trust.
Improves Sales
An aesthetically pleasing and expertly made design may draw and keep clients. It improves the public perception of your company, which could lead to greater sales and income.
Enhances Communication
Your message can be communicated more clearly with the help of a well-designed website, brochure, or other marketing materials. It aids with the clear communication of information and concepts, making it simpler for people to comprehend and interact with your brand.
Establishes a Professional Image
The professional design shows your customers that you are a serious company that values your reputation and image. It can assist you in differentiating yourself from rivals and establishing a more credible reputation in your field.
Increases Online Presence
Engaging visual design can improve the appeal and functionality of your website and social media presence. This could result in more leads and conversions by boosting traffic to your website and social media pages.
Creates Credibility
A professional design gives your company a more reliable and credible appearance. It can assist you in establishing a solid reputation in your field and winning the confidence of customers and clients.
In general, spending money on high-quality graphic design can help you expand your company by strengthening your brand identity. 
What do graphic designers do?
Using a variety of computer programmes and tools, graphic designers produce visual concepts and designs. They collaborate with clients to comprehend their objectives and demands before applying their aesthetic and technical knowledge to produce designs that satisfy those needs.
The following are some typical duties carried out by graphic designers:
Meeting with clients to discuss their needs for design, timeframes, and budget.
Design work on websites, brochures, ads, packaging, logos, and other graphic assets.
Choosing fonts, colours, graphics, and other design components to produce a unified and aesthetically pleasing design.
Collaborating with other specialists to develop a thorough design approach, such as writers, photographers, and marketers.
Preparing final designs for publication online, in print, or both. maintaining current with software, technologies, and design trends to ensure that their work is creative and efficient.
Motion graphics v/s Animation
Animation and motion graphics are two closely related but separate fields of design that entail producing dynamic, moving images. 
Using typography, shapes, and other graphic design elements to create animations that convey information or tell a story is known as motion graphics. 
To increase a project's visual impact, motion graphics are frequently employed in video production, cinema, television, and digital media.
On the other hand, animation entails designing things or characters that move and communicate with one another.
Animations can be either 2D or 3D and utilised for a variety of things, including entertainment, instruction, and advertisement.
Animations are made using a variety of programmes and equipment, such as Adobe Animate, Toon Boom Harmony, or Blender.
While motion graphics and animation have certain similarities, they also differ significantly in the following ways:
While animation is frequently utilised for storytelling and entertainment, motion graphics are typically employed to communicate information or add visual interest to a project.
Animation entails developing characters or objects that move and interact with one another, whereas motion graphics make use of visual design components like text, forms, and images.
Compared to animations, which can be labour-intensive to develop, motion graphics are often easier and quicker to make.
Animation is utilised in a variety of industries, including film, television, video games, and advertising, whereas motion graphics are frequently used in video production and digital media.
In conclusion, animation and motion graphics are two closely related but different fields of design that entail producing dynamic, moving images. Animation involves designing characters or objects that move and interact with one another to tell stories or provide entertainment, whereas motion graphics use graphic design elements to produce animations that transmit information or add visual interest.
Different software used for graphic designing
Graphic design software comes in a variety of forms, each with a unique set of features and functionalities. The following are some of the most utilised software applications by graphic designers:
Digital art, web graphics, and photo editing may all be done with the help of Adobe Photoshop, a robust image editing and modification programme.
A vector graphics editor called Adobe Illustrator is used to make scalable graphics including logos, illustrations, and typography.
A desktop publishing programme called Adobe InDesign is used to design layouts for print and digital media like brochures, magazines, and novels.
UI/UX design for web and mobile applications is the focus of this sketch, a vector graphics editor.
A Figma Web and mobile designs, prototypes, and animations are created using the cloud-based UI/UX design and collaboration platform Figma.
Create social media graphics, posters, flyers, and other sorts of marketing materials using Canva, a streamlined graphic design tool.
A vector graphics editor called CorelDRAW is used to make layouts, logos, and illustrations for print and digital media.
These are just a few of the numerous software packages that are accessible to graphic artists. The goals of the project as well as the designer's particular wants and preferences are frequently taken into consideration while selecting the software.
How to find the best graphic designing company?
It can be difficult to choose the best graphic design firm, but there are a few important elements to take into account that can guide your choice:
Examine their portfolio
A reputable graphic design firm has to have a solid portfolio that highlights its work and exemplifies its design abilities. Find examples of work that reflects your needs and assess the calibre of the designs.
Verify their qualifications and knowledge
Find out the company's experience level and how long it has been in operation. Do they have expertise in specific design disciplines, such as branding or web design? 
Browse customer comments and reviews
To learn more about how prior customers felt about the business, read online reviews and testimonials. Find out what others say about their communication, promptness, and work quality.
Examine their communication and customer service
The top graphic design firms should be simple to get a hold of, attentive to your needs, and committed to giving you a great experience. During the initial consultation, pay close attention to their manner of communication and responsiveness.
Check the cost
Ask for a full analysis of their pricing and think about how it fits into your budget while evaluating their cost. Be cautious of businesses that advertise extremely low pricing because they might scrimp on quality.
By taking these variables into account, you may reduce your alternatives and locate the best graphic design firm.
Conclusion
Overall, investing in high-quality graphic design can help you expand your company by enhancing your brand identification, raising sales, improving communication, developing a credible brand, and generating a professional image. In-house graphic designers may work for a business or organization, or they may operate as independent contractors, providing their services to various clients. They frequently have to operate under pressure and may need to manage several projects at once. A competent graphic designer can interact well with clients to provide high-quality designs that satisfy their objectives. They also have a solid portfolio that demonstrates their design abilities.
Logo design, branding and identity design, marketing collateral design (such as brochures, flyers, and posters), website design, UI/UX design, packaging design, and other services are frequently provided by graphic design firms.
It's crucial to take into account aspects like the company's experience, portfolio, design aesthetic, pricing, and client testimonials when selecting a graphic design firm. Additionally, it can be beneficial to have a clear understanding of the project's requirements and objectives and to successfully convey these to the business.
To develop visual material, graphic design firms employ a number of programmes and equipment, including Adobe Photoshop, Illustrator, InDesign, Sketch, and others. In order to streamline communication and workflow between team members and clients, they might also use project management and collaboration technologies.
Businesses can benefit from graphic design services by strengthening their visual identity and branding, producing more compelling and effective marketing collateral, improving the usability and interface of their websites and apps, and boosting consumer engagement and conversion rates.